Architects/planners
Planning, tendering and executing window sealing professionally
The DEFLEX® team supports architects as partners throughout the entire project planning process - even for individual objects and complicated façade constructions. With our practice-oriented expertise, we offer ideas and solutions for innovative window, door and façade sealing according to RAL. In addition, architects and planners can always rely on our qualified service as well as the high-quality and tested DEFLEX® brand products.
Plan your building project professionally and in accordance with the rules with the digital ift assembly planner, use our tender texts in accordance with the latest standards for your standard-compliant tender and document the site plan and structural analysis for your construction documents using the assembly pass.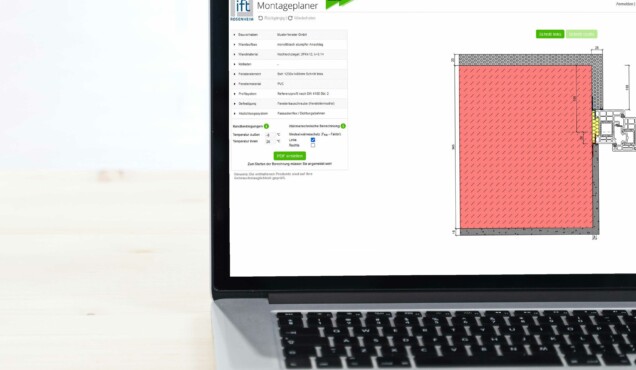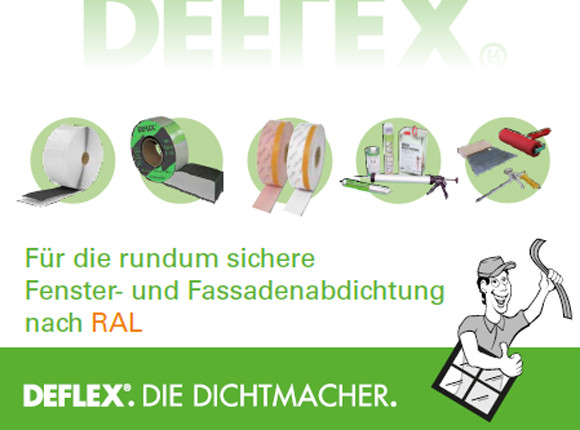 For all-round secure window and facade sealing
In over 35 years, DEFLEX® has become a brand name for sealing systems in window and facade construction. Numerous patents underline the innovative spirit at DEFLEX®.
Rely on tested and monitored product quality and certified processes according to ISO 9001:2015. Discover the diverse combination options of DEFLEX® sealing systems and find a suitable solution for every application. High-quality and ecologically valuable sealing materials stand for a sealing concept with an eye on the future.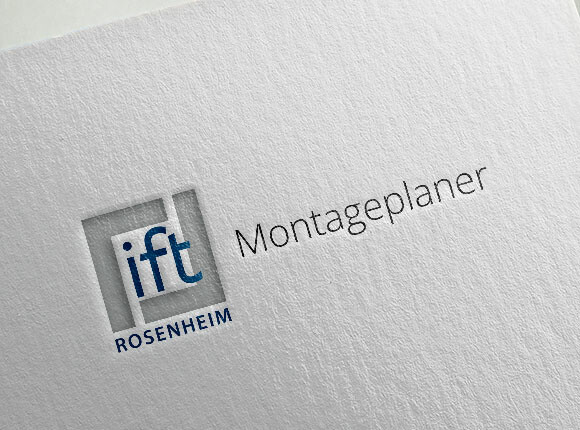 Professional planning with just a few clicks
The digital ift installation planner helps you to plan even more efficiently with DEFLEX® waterproofing systems in compliance with regulations.
In addition to the process of systematic planning and documentation, only tested and coordinated products are used in the holistically required sealing. The tested quality products from DEFLEX® have the necessary certificates from neutral institutes in which the properties and technical values are documented as conforming to regulations.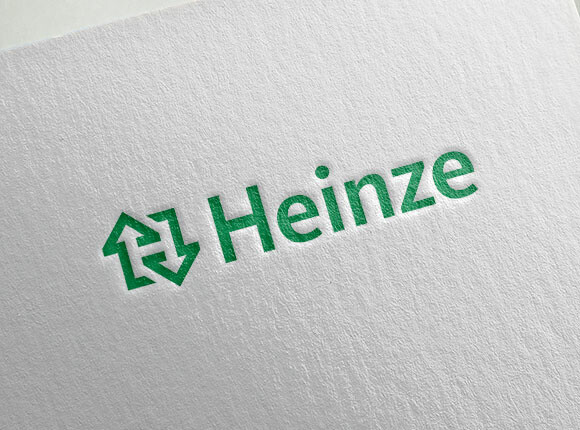 Tender texts - correct and standard-compliant
At www.heinze.de you will find tender texts and product information on DEFLEX® sealing systems, insect protection and pre-wall installations, always in accordance with the latest standards.
Heinze is Germany's leading information platform for building products, company profiles and architectural objects. You can view all stored tender texts conveniently and clearly in the text preview, drag and drop individual service descriptions and structural elements into the collection box and download them free of charge for further use in your AVA software, for example.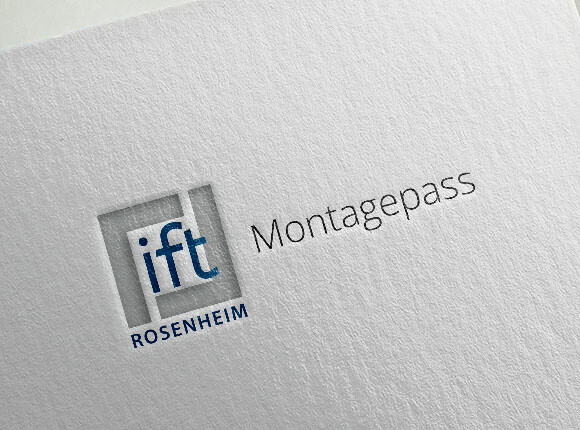 Professional documentation - ift assembly passport
With the assembly passport, documentation becomes child's play for architects and planners. The assembly pass is part of the construction documents like the site plan and the statics.
After planning the structural connection joint in the ift installation planner, an ift installation pass is output as a PDF. This contains the parameters entered for the installation situation, the CAD drawing, image and result of the FEM calculation as well as the static dimensioning with position plan of the fastening points and descriptive product information for processing.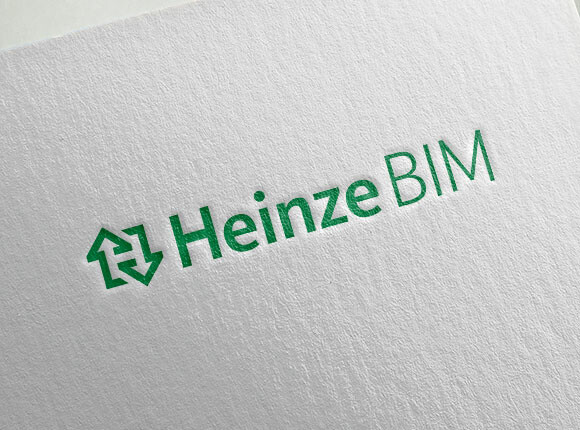 Starting into the future with BIM
BIM (Building Information Modelling) is the basis for digital transformation in architecture, engineering and construction. DEFLEX® also offers its BIM data via www.heinze.de.
Quickly access the BIM data of our numerous products for your construction project. With the smart search, access is very uncomplicated. The BIM data is made available to you as required and is subject to constant strict quality controls. You will find both 3D geometries and all product data in IFC format. The parameters can of course be changed and neutralised.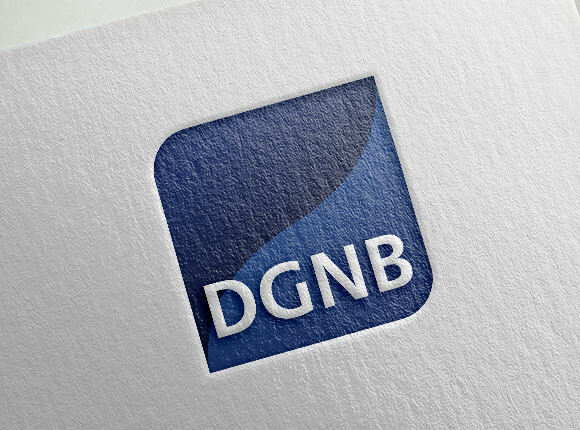 Sustainable planning with the DGNB Navigator
Get tailored information for your planning and product selection to plan sustainably. DEFLEX® offers numerous DGNB-listed products for sealing windows and façades.
The building products essentially contribute to the sustainability of a building: Environmental impact such as pollutant emissions or energy consumption during production and operation, life cycle costs through inspection and maintenance costs, and impact on user comfort. In the DGNB Navigator, architects and planners can find all information on the listed DEFLEX® products that contribute significantly to sustainability.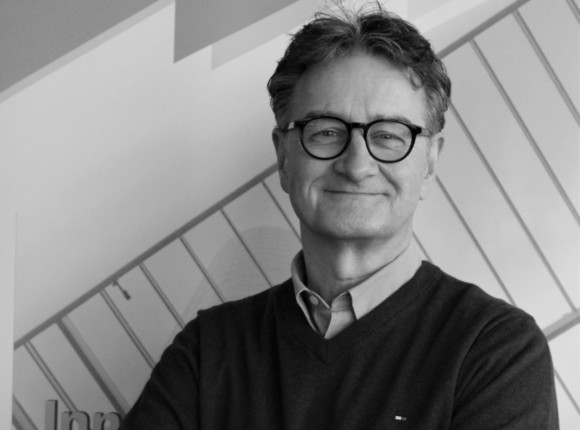 Architects and planners receive individual and competent advice from DEFLEX®. Our technical application consultant Mr. Michael Loogen is your contact for all questions regarding DEFLEX® products and services.
Mr. Loogen and the DEFLEX® team are at your side as partners throughout the entire project planning process - even for individual objects and complicated facade constructions. We offer you ideas and solutions for innovative window, door and facade sealing.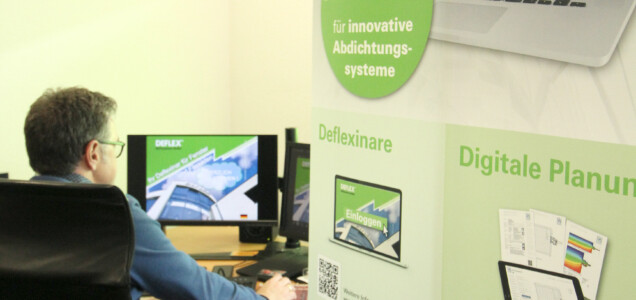 The DEFLEX® experts explain everything worth knowing about DEFLEX® products and their applications in both face-to-face and online seminars (our "Deflexinars"). The deflexinars on innovative waterproofing systems are particularly successful: from the basics of building physics to window and façade waterproofing with tested quality products and according to the latest standards in theory and practice.
More information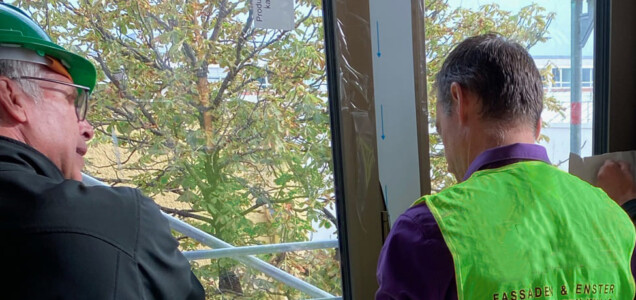 We support you in all questions on site - not only for your individual objects or complicated facade constructions. DEFLEX® employees have decades of expertise and will find the right solution for any problem related to window and facade construction. Feel free to contact us.
Get in touch